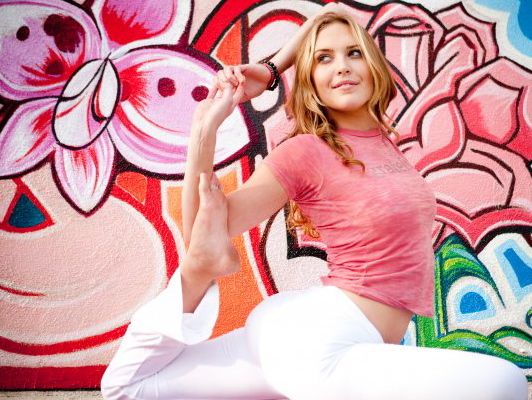 In 2006 Muhammad Yunus was awarded the Nobel Peace Prize for show(ing) himself to be a leader who has managed to translate visions into practical action for the benefit of millions of people, not only in Bangladesh, but also in many other countries. Loans to poor people without any financial security had appeared to be an impossible idea. From modest beginnings three decades ago, Yunus has, first and foremost through Grameen Bank, developed micro-credit into an ever more important instrument in the struggle against poverty.
Yunus' concept of the micro-loan and how he envisioned it to change the world inspired Joel Bender and Kayoko Mitsumatsu to found Yoga Gives Back, a non-profit organization that coordinates fundraisers throughout the world.
Yogis Anonymous (YA) will hold its Yoga Gives Back fundraiser Saturday, January 30 beginning at 7:30 pm. Ally Hamilton said in a recent interview, "We've been doing a lot of giving back recently, especially with Haiti." YA held 3 fundraisers for Haiti relief efforts.
The 2-hour Yoga Gives Back fundraiser @ YA will feature 4 esteemed yoga instructors from Yogis Anonymous, besides Hamilton, including Chani Nicholas, Charlie Samos, Meredith Hines, and John Sahakian.
The event will also feature live music through the voice and hands of Hamilton's YA co-founder (and husband) Dorian Cheah, as well as Daniel Stewart, Emily Kerns, Jeff Harris, and Greg Klimuck.
You are encouraged to register online as space is limited. Refreshments are provided by the awesome generosity of Sambazon Organic Acai Beverages and Whole Foods Market Santa Monica.
Most of the other YA instructors wanted to share their love and compassion with the Los Angeles community, for Haiti, and in support of Yoga Gives Back. Read them, recite them, and see how you might be inspired by them. There are 18 YA instructors who each provided 6 for a total of 108 inspirations – the significance of which is very spiritual. The full list is below.
Mary Beth LaRue (pictured above) said "I want to use my yoga every day, at least once…and use Facebook less" while Chani Nicholas said, "I'm going to practice radical acceptance."
I loved this from Charlie Samos the most: "to never be forced to take a bow, but rather to surrender, receiving the lesson, and with one breath and beat of my heart, to stand tall, with acceptance and wisdom."
Brock Cahill added, "Acknowledge the blessing of choice, and make firm decisions based on the the intrinsic and devine wisdom of my soul" while his wife Krista said, "I want to bring more awareness to preventive medicine."
Ashley Turner mentioned "To be more loving in every moment–most of all to myself — and to practice yoga more…" And this is from an instructor who teaches at several schools…Jai Ho!
There are 108 YA inspirations in all.
Photo of Mary Beth LaRue courtesy of Ashley Turner Photography.
This article originally appeared in the Huffington Post.